Pennsylvania's Professional Fire FIghters and MDA
Warren MDA Softball Tournament
There will be an MDA softball tournament on September 13 and 14 at Betts park in Warren. It is a slow pitch tournament and the entry fee is $150.00 per team. There will be awards for 1st and 2nd place. Contact Jerry Hammerbeck at 814-723-2407 or jhammerbeck@hotmail.com. This tournament is one of the essential IAFF fund raisers for Muscular Dystrophy. Please show your support for MDA and the Warren Fire Fighters!!

Altoona/Johnstown MDA Bowl I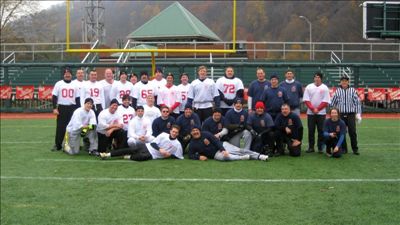 On Sunday November 18th, Johnstown Local 463 and Altoona Local 299 came together at the Johnstown Point Stadium for the first ever MDA Bowl, otherwise known as "Touchdowns for Jerry's Kids". The members of both locals survived the day with very few injuries and they are excited about facing off in other athletic events to benfit MDA. The final score Altoona Railroaders 27, Johnstown Steelers 18. A rematch is promised!

Bethlehem Has Success at Airplane Pull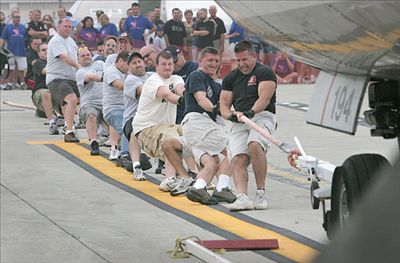 Well we did it and no one got hurt. Yea! There were 12 teams that registered and 9 that actually pulled. We raised $1,555.00 and the event raised just over $20,000.00 Our team weighed in at 4380 lbs which was right in the middle. The heaviest was over 5,000lbs and the lightest over 3000lbs. Our team of 20 pulled 3rd and set standard with a time of 7.32 seconds for our first pull, it was best of 2 pulls. We sat by anxiously awaiting as the other teams pulled and indulged in some food. We went up for our second pull still in the lead and didn't fare as well this time at 8.9 seconds, I think. ( to much food.) We watched as the final two teams made their pulls one of which was the defending champs, they could not unthrone us and we came out on top with the winning pull of 7.32 seconds. Congrats to the IAFF Local 735 Airplane pull team on their victory. We also had in our group the top individual fundraiser with Mike Reich raising $705.00, thanks Mike. It was a great time and it was nice to see all the families that came out to cheer us on and look at the fire trucks and tour the plane and do crafts as there was alot for the kids also,Thank You all so much. So now we wait until next year to defend our title. Thank you to everyone that came to help and cheer us on it was nice to see the support. Keep your eye on the news too there were plenty of reporters taking alot of pics. Also keep your eyes open we have Boot Drives Nov 20 and 23 from 9-1 locations will be announced shortly and we need your help. We also are in the process of organizing an indoor paintball event in Jan 2008 more info to follow. Have a great day and Thanks Again


David A.Saltzer
Secretary IAFF Local 735
MDA Co Chair

Bethlehem Scores for MDA
Bethlehem Local 735 scores with MDA. The Brothers in Bethlehem got involved with MDA after a six year break from fund raising, and they did it in a big way. Dave Seltzer, Local 735 Secretary said, "We started again in June of this year and ran 3 events. 2 celebrity bartending events and a fill the boot. We raised $4,034.00 for MDA from June until Aug and even had Andre Reed from Buffalo Bills at one event signing stuff and taking pictures as well as our ambassador Alexa Dectis to sing for us.We are trying to schedule some fill the boots around the cities Christmas events. We have also assisted the LV MDA girls with their miniature golf tournament in Mt Pocono and are entering a team into the airplane pull." Not too bad for a local that hasnt been involved.



MDA/PPFFA Fundraising 2007 Totals
Pittsburgh...............................$95,000
Swissvale...............................$20,000
Hanover...................................$9,000
Uniontown...............................$6,000
McKeesport.............................$4,600
Altoona.....................................$4,000
Bethlehem..............................$4,000
Johnstown..............................$1,500
MDA Press Release
Preliminary Results of Muscular Dystrophy
Clinical Trial Encouraging
TUCSON, Ariz., Oct. 21, 2006 — An experimental compound developed by PTC Therapeutics of South Plainfield, N.J., with support from the Muscular Dystrophy Association (MDA), has shown promise as a treatment for Duchenne muscular dystrophy (DMD) in a clinical trial of boys with the disease, the Association announced today.
"We're really encouraged by these exciting results," said neurologist Valerie Cwik, MDA vice president – research and medical director. "We're very gratified to see MDA's support of PTC124 development translated into clinical activity in the fight against this terrible disease."
MDA has awarded some $1.5 million to PTC Therapeutics for development of PTC124.
According to data presented today at an international DMD conference in London, in a study of 26 boys with DMD who took PTC124 by mouth for 28 days, significant biochemical improvements were observed, and parents and teachers reported functional improvements in some of the participants. The data were from clinical trial sites at Children's Hospital of Philadelphia, Cincinnati Children's Hospital Medical Center and the University of Utah in Salt Lake City.
DMD, the most common childhood form of muscular dystrophy, results from any of dozens of flaws (mutations) in the gene for dystrophin, a muscle protein that provides structural support and plays a role in chemical signaling in muscle fibers.
The gene is on the X chromosome, and the disease affects males almost exclusively. About one in 3,500 boys is born with the disorder.
Boys usually begin to have difficulty walking and climbing stairs in their toddler years and usually need a wheelchair full-time by their teens. Death typically occurs by age 30, from respiratory or cardiac muscle failure.
In about 15 percent of children with DMD, the dystrophin gene mutation generates stop signal that tells the muscle cell to stop making the dystrophin protein before it's long enough to be functional. It's this type of mutation that's targeted by PTC124, which coaxes cells to ignore the stop signal and "read through" the rest of the genetic instructions, resulting in the synthesis of full-length dystrophin protein molecules.
Six trial participants, with an average age of 10, took PTC124 at a low dose; and 20, with an average age of 9, took it at a higher dose.
Increases in dystrophin expression were shown in muscle biopsies from a number of the boys participating in the trial. The level of creatine kinase, an enzyme that leaks out of damaged muscle cells into the bloodstream and is a rough indicator of muscle destruction, dropped significantly during PTC124 treatment.
The drug was well tolerated without significant side effects.
PTC Therapeutics plans to study PTC124 at a still higher dose beginning next month, if regulatory approvals can be obtained. The company plans a larger and longer (three- to six-month) study beginning during 2007.
"With such positive results so far, we're very anxious for larger and more comprehensive trials to get underway," Cwik said. "It will be particularly important to see if higher doses or a longer regimen will make PTC124 even more effective in boys with DMD."
For more information about muscular dystrophy, see the MDA Web site at www.mda.org. MDA is a voluntary health agency working to defeat more than 40 neuromuscular diseases through programs of worldwide research, comprehensive services, and far-reaching professional and public health education
F-221 MDA Golf Outing
We are running a golf tournament for MDA Friday October 20th at Armitage course in Mechanicsburg. It's a shotgun start at 12 noon. I know its short notice but I was wondering if you could help me spread the word to other locals and anyone else you know of who might be interested in either golfing in or sponsoring this worthwhile event?
Download:

mda.pdf
Page Last Updated: Sep 03, 2008 (13:00:18)